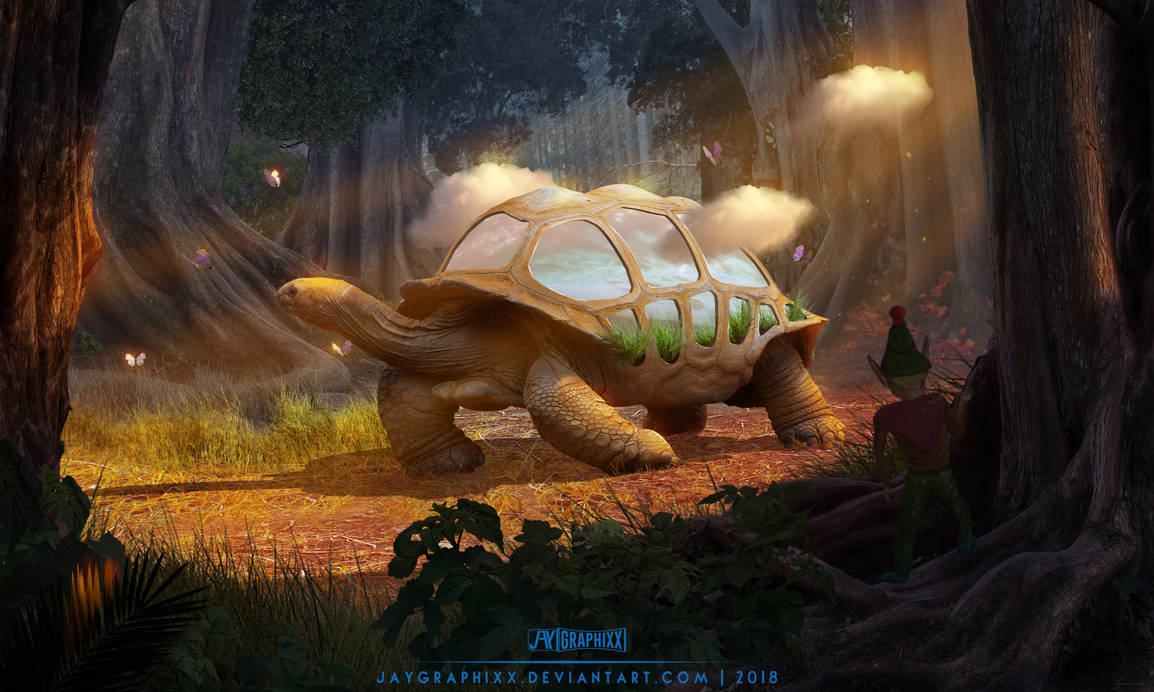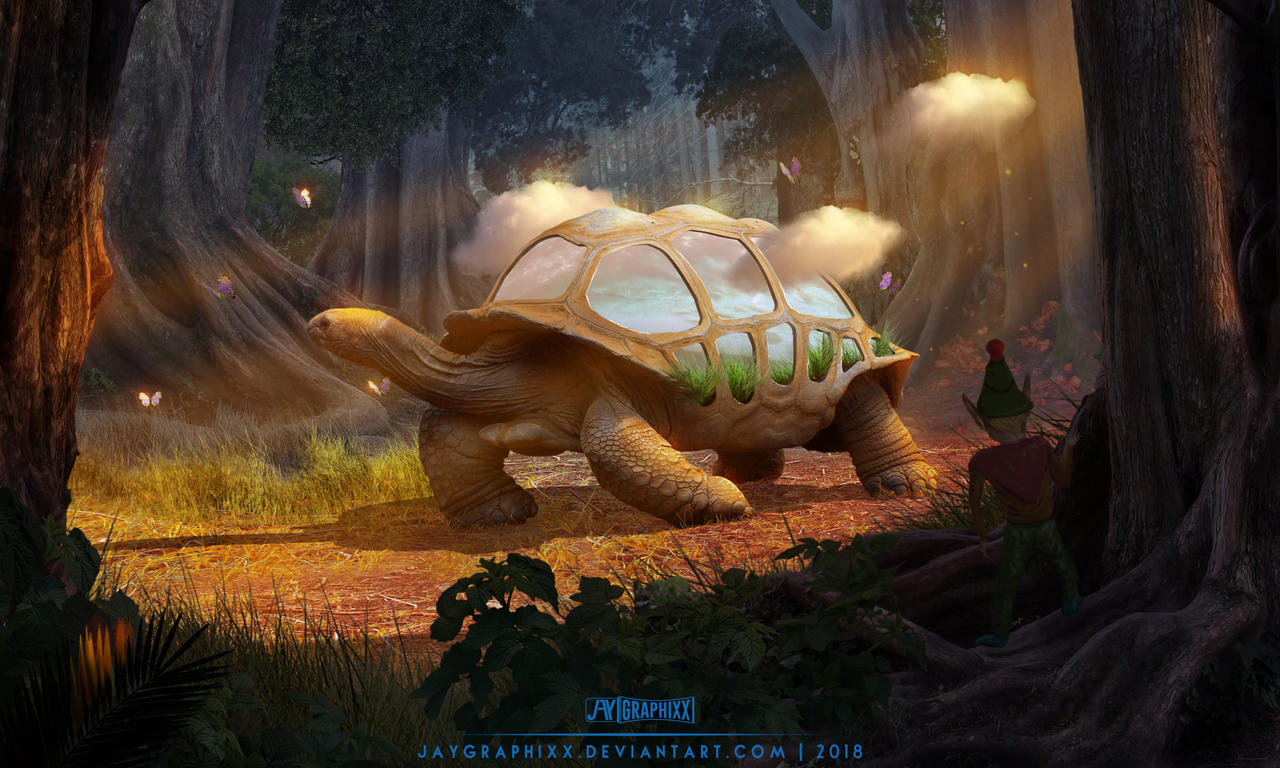 Watch
"Finally, they're going to believe me, I've found one! All those at the Elven cabin who laughed at me and said that I've been around Spanish mushrooms for too long. The stories are true... they exist!"


Entry for the
Adventurer: In search of lost creatures - Contest
by

Level: Advanced
I challenged myself with this one, it's so far from what I normally do but it's always good to get out of your comfort zone a bit. I didn't want to do anything big and scary for a creature... well, not this time. xD
天天彩选4中奖情况 www.3tbpb.cn Edit – seems like some don't understand or want a description of the piece. The concept of this artwork all is about a tortoise carrying nature on its back -- a whole different dimension that is. It's the rarest creature of its kind; its magical shell holds everything of nature, anything but humans… sorry, human-less world xD. The skies are the edge of this dimension, so periodically clouds ooze out. You could say it's an entry to this enchanted world. So imagine yourself as an eagle soaring so high you ended up flying out of the back of a tortoise.
Credits to the stock owners:
Tortoise3-Stock
by
SilkenWebs
|
cloud
by
le-scud
|
Grass 02
by
Brizzolatto55
|
Raspberry bush
by
margarita-morrigan
|
tree trunk 10
&
tree trunk 13
by
NellyGraceNG
|
Palm Tree Tube Stock III PNG
by
digitaltwist
|
Deep forest
by
CAStock
|
Tree 51 png
by
gd08
|
tree 9
&
tree 8
by
stormsorceress
|
Butterflies 6 PNG Stock
|
Sky stock XII
by
Muse-of-Stock
The elf was painted
This artwork took hours to be made, it can take you a matter of seconds to steal it; it should not be reproduced, copied and re-uploaded without my permission.
I may not be into graphics just yet, but I can say that you did an excellent job with processing the actual photo of the animal and smoothly creating such a breathtaking and eye catching piece.
Everything has a natural environment as well.
I even enjoy the back, middle, and fore ground of this as well.
Although the Elf was painted as said so within the description you still found a way to incorporate it perfectly to where it blends in perfectly with the surroundings.
Well done and keep up the good work! I enjoy seeing more from you!!

The Artist thought this was FAIR
7 out of 8 deviants thought this was fair.
How come is this the first time I saw you

Ok so anyway, I think this MASTERPIECE is absolutely amazing. First of all, I really Like how the whole forest is dark and it's only bright next to the turtle. I also really love how the turtle is carrying around, another world I guess? xD The detail on this is also just CRAZY. I've seen so many other artists like you that make the image look realistic, but there's also a hint of fiction in it. I'm speechless and I think you DESERVED to be featured because this is just too good. One more thing, I'm not sure if a lot of people noticed but is that an elf hiding in the shadows? I think that's a cool easter egg/detail that actually brings a lot to the image. In the background, the forest just looks VERY realistic and I don't even know how you did that. Even if you found an image from google that still looks crazy good. I also like how you added a few butterflies to the image. The turtle looks very realistic (probably because you used a reference for it) what I mean is, it looks something you would find if you went inside a storybook. And the grass that comes out of the turtles shell, I think it's very interesting and original that you made it sort of, pop out. Kind of like you could go inside the turtles shell. I know it's not a big detail but it makes the image pop out slightly more.
Sorry if I annoyed you with this incredibly long message but I hope you understand, I don't see anything wrong with it. I was going to say the turtles legs looked kind of weird (of how they were standing) but since it's based on the reference of the real life turtle, I guess I can't judge you because that's what the actual turtle looks like xD Here's another long paragraph lol. I love how the trees in the foreground have a lot of detail to them, and so do the trees in the background. I know I said before that they look realistic, even though you could've gotten an image from google but it still looks very impressive. Again, I'm sorry I maid the critique this long but I hope it didn't bother you. I just wanted to express how I feel and I hope you don't mind xD
Rewards: +1 Watcher

The Artist thought this was FAIR
7 out of 8 deviants thought this was fair.